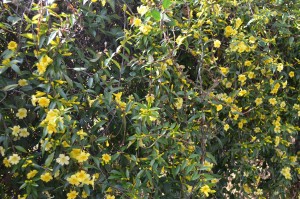 Dear Friends in the D.C. area,
I know this is getting old! Here we go again: Freeze Warning for Saturday night, April 9th. This Saturday night's freeze could be the coldest of the recent late freezes. If it gets into the 20s, we could have widespread damage.
In my own garden, there was some damage from the 31F or 32F we got the other night. I had damage on the new growth of Daphniphyllum, Hydrangea, Bush Ivy, Ligustrum, and the blooms on my Loropetalums.
In my own garden, I am particularly concerned about Japanese Maples (new leaves), Hydrangeas (new leaves), Boxwoods (new growth), Azaleas (coming into bloom), Loropetalums (flowers), Ligustrum (new growth), and Clematis (new growth and flower buds). Some perennials could be burned, as well. To the degree that I can cover these plants (some of my plants are just too big to cover), I am going to do so. Saturday night, my yard will be draped with sheets, blankets, tarps…whatever I can find to cover my vulnerable plants.
You may want to protect your Roses, as well.
To reiterate:
Tender annuals, vegetables, etc.

The average last frost date for the D.C. metro area is April 25th (earlier to the south and east of the city, later to the north and west), yet some impatient gardeners have undoubtedly gotten too early a start. If you are one of them, be sure to cover your frost-tender annuals, vegetables, etc., to protect them from the frost. If you have pots planted with tender plants or haven't planted your tender plants yet, and you can bring them inside, it wouldn't be a bad idea to do so Saturday night.
If you've put your houseplants outside on the porch or patio already, bring them in and leave them inside until all danger of frost has passed.

Tender buds, flowers and foliage.

Tender foliage on hydrangeas, Japanese maples, and the more tender perennials may be especially vulnerable, as might azalea and camellia flowers coming into blossom or buds showing color, and very tender new growth on evergreen and deciduous shrubs. Many early-flowering shrubs, bulbs and perennials can take a little cold, however. If you are worried and want to protect any plants, you can cover these items with frost cloths, tarps, sheets or light blankets to help protect the flowers from frost. Be sure to remove them during the day, so the plants beneath them don't overheat.
Let us all think good thoughts and hope the temperatures moderate Saturday night!!
Here's hoping this will be the last time I need to send a frost/freeze message this Spring, yet I will keep you posted if more cold weather comes our way.
Posted under Spring Flowers, Weather vagaries