Woke up to this: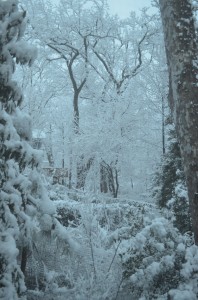 Every twig, every leaf, every surface has snow on it.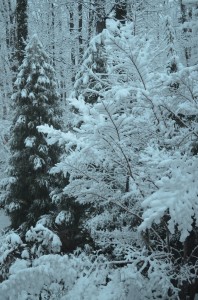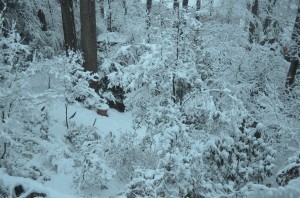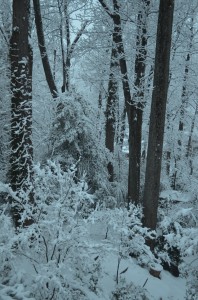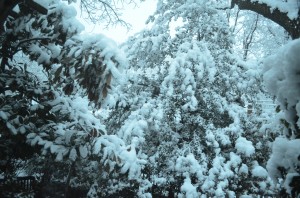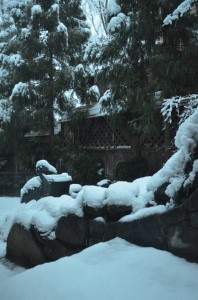 When I look up into the trees, the first thing that pops into my head is "reindeer antlers", for some reason.  What do you think?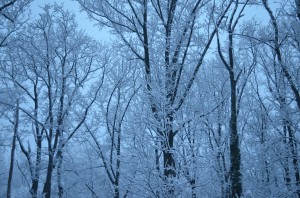 Soon, I hope, the temperature will rise above freezing so the snow will begin to drop off the plants.  It's heavy and wet, and many of the shrubs are arching over a bit too much for comfort…I am praying for no breakage.
Checking my notes, I see we had a dusting of snow on March 27, 2011.  The photos show the flowers much more advanced than this year.  It's been a cold, cold March–many days more like January.  While snow is not uncommon this late in the season (and even a dusting on the flowers in early April is fairly common), I can't remember having this much so late.  I measure 3″-4″, and it's still snowing.
The cherry blossoms around the Tidal Basin are due to peak in a week–really?  Hard to believe on a day like today, yet it will come to pass.  My hillside of blooming daffodils is hidden under the snow this morning.
Can't wait for shorts, flip-flops, and flowers!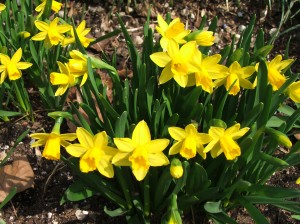 Posted under The Spring Garden, The Winter Garden, Weather vagaries