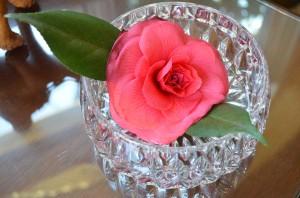 Now that we're about at the halfway point of Winter, I start to imagine Springtime.  The days are just starting to lengthen, and the sun is just beginning to feel a bit stronger.  By Valentine's Day, the sun begins to heat up the car again.
I've been AWOL for awhile, so may I wish you a Happy New Year, belatedly.  My desktop computer is on its last leg (a new laptop has been ordered); my camera bit the dust (I got a new one); and we're working on a new website and blog design.  Those will debut this Spring.   So I've been busy with the help of my trusty computer guy, Jason; my brilliant web/blog designer, Peter; and my smart partner, Steve, who chose my new camera for me (it's the bomb!).  We've got to update this blog–the spam is absolutely awful, frustrating and a pain in the you-know-what.
I've been on lots of fun trips this Winter already:  the Chihuly exhibit in Richmond, VA, as well as a visit to the holiday-lit Lewis Ginter Botanical Garden; and yesterday, a trip over to a bald cypress swamp in Southern Maryland.  I love swamps.  I guess it's that liminal space between land and water, and I love the mysterious blur between the two.
Last week, we got down to a low of about 15F, the lowest so far this Winter.  We had a couple of light snow events, and an icy morning yesterday, followed by the Spring-like weather today.  A couple more days of this nice weather and then it's back to cold, as I'd expect this time of year.
I let the water run over the waterfall until just a trickle was flowing, then I turned it off so the pump wouldn't burn up.  Here's what it looked like, frozen.  It's thawed out amazingly today.  [you can enlarge the photos by double-clicking on them, I think.]
And a few palms in the snow…these are Windmill Palms (Trachycarpus fortunei) and yes, they are hardy–down to about OF, or the bottom of zone 7A.  I have some Needle Palms, too–they'll survive even lower temps–down to about -5F or -10F, or zone 6a/b.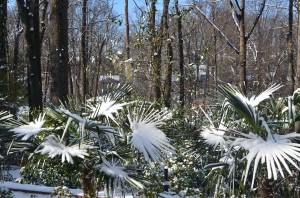 I walked around the yard today and, so far, it seems like most everything has escaped Winter damage.
Last week, just before the snow, I had two young red foxes bound into the back yard, a male and female.  Happily, I was able to grab the camera and get a few shots.  They hung around much of the day.  They are beautiful and healthy.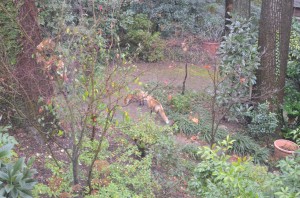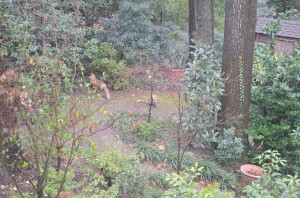 Just before the freeze, I went out in the yard and picked the few Camellias still in bloom.  I'm glad I picked them because I've been enjoying them inside for over a week.  They help me imagine Spring!  I float them in shallow saucers and bowls–"Camellia bowls".  Many of the bowls are very old and were made for just this purpose.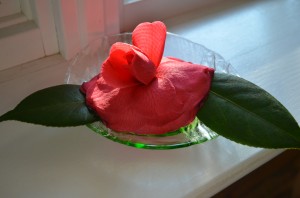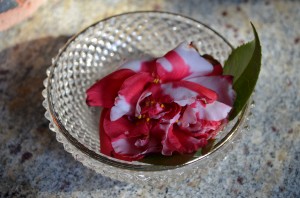 I'm leaving in a few days for my annual time in Wilmington, NC, and I'm really looking forward to spending time with Steve.  We'll be touring lots of gardens in the Lowcountry this year, so I'll have lots to share with you.
Photos by the blogger; if you copy, please link back.  Thanks.
Posted under Animals in the Garden, Flowers in the House, Garden Travel, Random garden thoughts, Southern Gardens, The Winter Garden, Water in the Garden