Japonica.  Camellia.  Some say it like this:  Kuh-MAYL-yuh.  Here in the South, "Japonica" is a catch-all term for so many plants:  Winter/Spring-blooming Camellias, Pieris…any plant whose species name is japonica is fair game down here.  Whatever you call them, they're all the same and they're all Camellias.
I just took a turn around my woodland garden, and the early Camellia japonicas are blooming away.  Of the varieties I have, these aren't my favorites (those will bloom later); yet any flower at this time of year is welcome, both indoors and out.  Indoors, I love to float them in shallow dishes.  I have my eye out always for vessels in which I can float Camellias.
Camellia dishes/bowls are an old stand-by, Southern style.  Actually, I got this flat dish in Murano, the island off Venice where the beautiful Venetian glass is made.  It's perfect for floating Camellias.  I bought it for this use.  This one will hold several blossoms: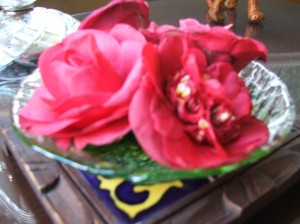 Here's an old one I got at the gift shop of the Mercer House in Savannah, GA.  Steve and I get down there several times a year–we love it–and a stop at the Mercer House shop is a must.  (Remember the book/movie, 'Midnight in the Garden of Good and Evil'?  This is the house of Jim Williams.  Check it out here).  A clue that it's a Camellia dish, and not a cigarette ashtray (though, yes, you could use it as an ashtray), is that it doesn't have the notches in the rim where you'd rest a cigarette.  I love the cut glass and gold rim: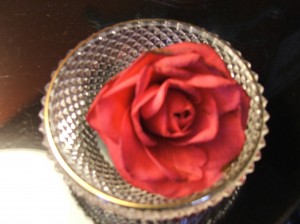 Many Camellia dishes are passed down through Southern families.  Many shallow dishes did double duty as condiment dishes and Camellia dishes, like these, which were passed down to me by my maternal grandmother, "Miss Lill":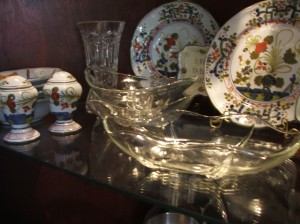 Sometimes, a Camellia may be blooming at the tip of a branch and have tight buds adjacent.  Every bud means a precious flower, so I've found that twisting off the flower, carefully, is the best way to pick them.  Just plop them in a shallow dish, Camellia or otherwise, face up, and there you have it.  They last many days in my house–probably because I'm cheap and keep the house so cool!
What a Winter!  To be able to walk around the yard daily–in JANUARY–and see what's happening (because, yes, it is changing daily–hard to believe) is a treat beyond treats.  Good for the soul and what ails you.  The days are getting longer and the sun is getting warmer, too, here in the magical Mid-Atlantic.
I never thought I'd ever say this, and I may never say it again–and it may be a first:  Just for now, I'm loving Winter.  How about you?  Do you have any Camellia traditions?
Photos by the author.  If you copy, please link back.
Posted under Flowers in the House, The Winter Garden