After what always seems like an eternity (in other words, getting through January), I made it down here to Steve's in Wilmington.  I've been here a week and, already, I feel the relaxation and calm streaming into my body and the stress and tension slowly draining out.  The air is not all that much warmer down here–though I don't sense the chill that emanates from the ground in Arlington at this time of year–yet the sun is much, much brighter, warmer, and intense.  It's done wonders for my outlook!
We've had lots of rain.  That's a good thing since there have been many years of drought and heat down here and the soil is practically all sand.  Great for digging (compared to the rocky clay in Arlington); not so great for holding moisture or nutrients.
With the rain and warmer sun, the plants are responding with bloom.
One of Wilmington's crown jewels is the annual Azalea Festival.  This year, it's happening April 10th-14th.  The entire town is filled with blooming Azaleas, gorgeous gardens (there's a big fundraising tour) and glamorous belles–yes, in hoop skirts.  I was asked to write an article on a couple of the featured gardens for the April issue of Wrightsville Beach Magazine. Today, I met my charming contact and she took me by two of the gardens.  They are all that and some change, and I can't wait for you to see them…but for that you'll have to wait.  Meantime, I did snap some close-ups of flowers in these two gardens, and I'm sharing those here.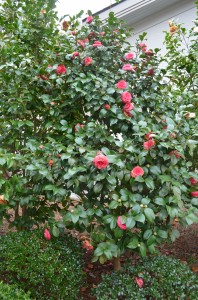 Tomorrow, we are heading South for a week in the Low Country:  Charleston and Beaufort, SC, and Savannah, GA.  We can't wait to get to our beloved Low Country and savor the gardens, history, architecture, and surprises along the way.  We want to explore the Sea Islands and see as many plantations and gardens as we can.
Photos by the blogger; if you copy, please link back.
Posted under Fragrance in the garden, Garden Tours, Garden Travel, Gardeners, Southern Gardens, Spring Flowers, The Spring Garden, The Winter Garden, Travel