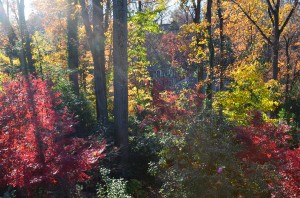 Right on time, the first frost/freeze of the season is due this weekend, here in the Magical Mid-Atlantic.
Most of you have brought in the houseplants; if not, it's time to wrap it up. Bring in those tender things: any tropical plants (such as your Summering houseplants), or any tender plants you might want to save that would be susceptible to the effects of a frost/freeze. I just finished getting everything in the door a couple days ago.
Soon: turn off your outdoor spigots for the season; put hoses away when you get the chance. Change the batteries in your smoke alarms (the twice yearly time changes are good seasonal reminders). And check your dryer vents, too. You'd be surprised how many people forget to check their dryer vents—they can get clogged and become a serious fire hazard. There are companies out there to clean the vents for you, if you are not into doing it yourself.
Happy Fall and I'll have more in my Holiday Newsletter in late November. Hope all of you are well and happy.
__________
Photo by the blogger. If you copy, please link back.
Posted under Houseplants, The Fall Garden, Tropical Plants