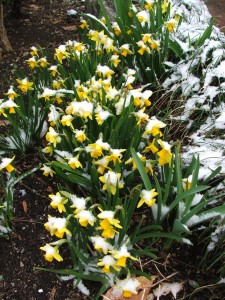 Just as we were getting used to all this balmy, Spring weather, March rears its ugly side to hit us with possible damaging frosts and freezes on Sunday and Monday night (Monday night is predicted to be the coldest). Here are a couple of things to keep in mind over the next few days:
Tender annuals, vegetables, etc.

The average last frost date for the D.C. metro area is April 25th (earlier to the south and east of the city, later to the north and west), yet some impatient gardeners have undoubtedly gotten too early a start. If you are one of them, be sure to cover your frost-tender annuals, vegetables, etc., to protect them from the frost. If you have pots planted with tender plants or haven't planted your tender plants yet, and you can bring them inside, it wouldn't be a bad idea to do so both Sunday and Monday nights.
If you've put your houseplants outside on the porch or patio already, bring them in and leave them inside until all danger of frost has passed.

Blooming camellias, etc.

Blossoms on early-blooming shrubs and trees can take some cold weather, for the most part. But if you are worried and want to protect them, you can cover these items with frost cloths, sheets or light blankets to help protect the flowers from frost.
Let us all think good thoughts and hope the temperatures moderate Sunday and Monday nights!
If you are thinking of getting my help this Spring for some landscape work, please let me know soonest, as my Spring calendar is filling up early this year.
Posted under The Spring Garden, Weather vagaries