If you garden, Winter is a time of major dreaming. Dreaming about how our gardens will do this year, dreaming about maybe traveling to see some gardens, and, well…dreaming while sleeping.  It's a great time for naps, snuggled up in your favorite old blankets and afghans.
Personally, my reading time is just before I sleep–at night or before a nap.  I relax and dig into whatever book I'm reading (though I might have two going at once), and reading lulls me to sleep.  Right before bedtime is the only time I have to read, during most of the year…having the extra time in the Winter is a real luxury and treat, and I do take advantage of it!
After a hectic holiday season and January, I finally finished up my long list of things to do and now I'm in Wilmington, NC, for a nice, long stay.  Ahhhhhh.  Even after being here for a week, I'm just now coming down off the craziness and beginning to relax.  Let the naps and reading begin!
I just finished reading The Greater Journey: Americans in Paris by David McCullough.  It tells about creative Americans who went to Paris between about 1830 and 1900.  You'll recognize the names of many of the movers and shakers of American history.  If you love Paris, as I do, you'll recognize so much of the city in Mr. McCullough's words.  I learned so much from this book.
Of course, I'm reading garden books!  A book I've wanted to read for awhile is And I Shall Have Some Peace There: Trading in the Fast Lane for My Own Dirt Road by the wonderful blogger, Margaret Roach.  She is a former executive from the Martha Stewart empire and finally threw in the towel so she could do her own thing.  I confess that I just started this one, but I can tell I'm going to get sucked into it quickly.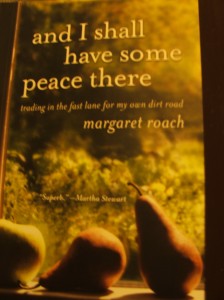 Dominique Browning, former editor-in-chief of House & Garden magazine, left the fast lane, as well, but not by choice.  The magazine folded.  She wrote the wonderful book Slow Love: How I Lost My Job, Put on My Pajamas, and Found Happiness about her post-job experiences.  I've read all her books, and this is my favorite.  Though I enjoyed her other books very much, I sensed an underlying anxiety that I don't sense in this book.  What I see in this book is a letting go, and I can feel it happening as I read.  Gardening helped her find her way.  I really enjoy reading her blog, as well:  Slow Love Life.
One book that has really excited me this Winter is One Writer's Garden: Eudora Welty's Home Place by Susan Haltom and Jane Roy Brown. I'd read over the years that Ms. Welty was a gardener, but who knew she was a capital "G" Gardener?  This book looks at the Welty garden in Jackson, Mississippi, which has been lovingly restored to the time Ms. Welty's mother, Chestina Welty, was alive and tending it with her daughter.  I love the criss-cross of the history of the garden melded with Ms. Welty's history.  I've maintained always that behind every garden and gardener is an interesting backstory, and the fact that Ms. Welty was a famous, Southern writer is not the main course here–her garden is.  This is a slant that we gardeners love.  It feels like a privilege to get a behind-the-scenes look at a very private part of this famous writer's life.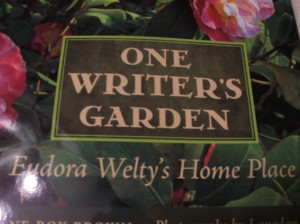 Another book that just landed on the doorstep here in Wilmington is The Art of Creative Pruning: Inventive Ideas for Training and Shaping Trees and Shrubs by Jake Hobson.  I heard about this book here from the wonderful garden blog Garden Rant.  Okay–the photos in this book are plant porn, especially if you love your plants trimmed and controlled just so.  I'm not one of those people, but still…maybe I could try it, even a little?  This book is instructive, well-illustrated with examples and looks like a winner.  I'm looking forward to reading it, not just glancing.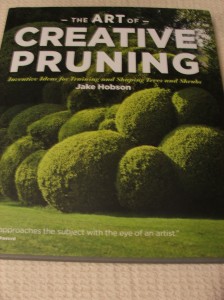 I revisit two of my favorite books throughout the year (and years), not just Wintertime.  Mrs. Whaley and Her Charleston Garden and Mrs. Whaley Entertains were written by Emily Whaley, with William Baldwin.  Mrs. Whaley, who passed away a few years ago well into her eighties, had the most visited garden in the country.  She wrote these books in her eighties, and they are absolutely, wonderfully, cheekily delightful.  What a woman she was, and what a gardener.  The books describe not only her garden, but those of her childhood and old, old South Carolina family.  And we all get to listen to her life story, peppered with saucy opinions and comments.  She was Southern to the core.  These books are a quick read and great books in which to just get lost.  I love them.  (And I have a confession to make:  a few years ago, my talented Richmond friend, David Pippin, and I snuck into Mrs. Whaley's garden on one of our Charleston trips.  We peeked quickly, then left in one piece.  Thank goodness!  We later found out she'd already died before we saw the garden.  How I wish we could have met her.)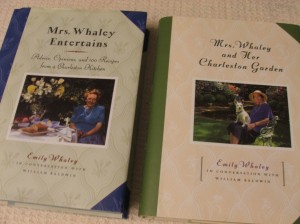 As you can tell, my tastes go for essay-type books, whether they are garden or travel or cook books, which tend to be my favorites genres.  I like history, too.  But please:  don't just give me the facts…tell me a story, too.  If an author does that, they've got me as a reader.
Steve and I are headed to our beloved Savannah, GA, tomorrow.  I don't think I'll have a lot of reading time (though some), but we will be trying to see every garden we can see.  First stop may be Boone Hall Plantation just North of Charleston, SC.  There was a freeze over the weekend, so some of the early bloomers may got zapped…I'll keep you posted.
Photos by the author.  If you copy, please link back.
Posted under Blogs, Books, Garden Travel, Gardeners, Topiary, Travel, Writers