Here in the Mid-Atlantic, it's been a mild Winter.  Before I left for the New Year in Wilmington, I turned off my waterfall here at Woodland Cottage since I heard a freeze was on the way.  When I got home yesterday, there was a thin coating of ice on the pond–first of the season.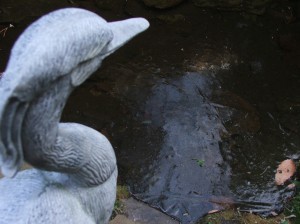 What a difference a year (or two) makes!  Here's the pond and waterfall after the just-before-Christmas snow of 2009: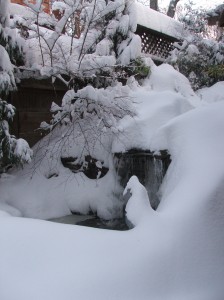 And here's how the waterfall looks, normally, in January: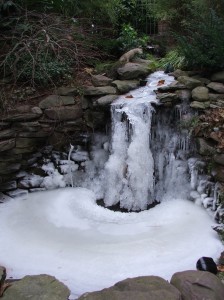 Today, it's warming up again, so I'll probably turn the waterfall back on.  The night temperatures over the next few days are supposed to be just below freezing, if that.  I like to keep the water moving, if at all possible…keeps it from getting stagnant and stinky.  It was warm enough late last Fall that I could give the pond a good cleaning.  Some years, like the last two, it gets cold suddenly, and the fallen leaves and brush get frozen before I can get them out of the water.  Makes for a very unpleasant clean-up when I return North in March!!
Elsewhere in my garden, the usually late-Winter bloomers are showing up much earlier this year (maybe the earliest I've ever seen them appear, in my garden).  One of my favorite shrubs, Mahonia bealei, the Leatherleaf Mahonia, is showing its lemon-yellow buds.  The bumblebees love these…I hope the flowers hang in suspended animation until late Winter, when the bumblebees are active again and can enjoy the flowers.  To me, this is just another example of how climate change has things out-of-whack in the natural world.  Gardeners know how interconnected it all is, and if you know your own piece of land, you notice details like this.
Late last Winter, while in Wilmington, NC, where I spend a good part of my Winter with my partner, we were driving home from visiting friends in Carolina Beach and spotted loads of tropical plants for sale at a small nursery.  Turns out they had been used as props for filming a movie–not sure which one.  (Did you know Wilmington has the largest film studio East of Los Angeles?)  We stopped and I picked up a Bird of Paradise and a few other items.  I planted the Bird of Paradise in a large pot in front of my house here in Arlington.  It got so big (and was so inexpensive) that I decided not to bring it into the utility room for the Winter, like I do with so many of the smaller tropicals I use in pots in the Summer.  Believe it or not, it looked great until we had our first hard freeze this weekend.  Leaving it out to see how long it would last has been an interesting experiment.  Here it is today: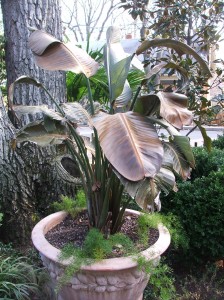 Notice the Sprengeri Asparagus Ferns?  They've withstood the freeze so far.  Here are some more of them today in windowboxes on the front of my house: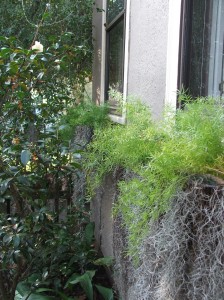 Hellebores are starting up:
The Lenten Roses, Helleborus x orientalis, haven't really started to push their buds yet, but I do see some activity when I look at their crowns.
Snapdragons have become good Winter annuals in the South in the last several years, as Pansies have been for years.  I have some pretty red ones in pots by my front door.  They are looking good right now, if a little wilted–from the cold or lack of water?  Not sure, so I gave them a drink this morning.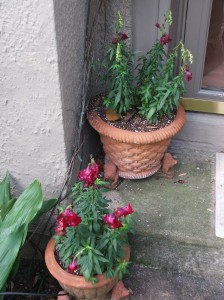 And, of course, Snowdrops, and yes, these are blooming earlier than normal, too.  My neighbor, Mr. Jimmy, has them blooming in a sunny spot in his front yard.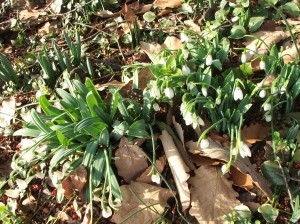 Thank goodness the Winter Daphne has not yet burst into bloom.  It would be a major bummer if I lost that glorious harbinger of Spring–absolutely the most heady, powerful scent in my garden.  I've got lots of fragrant flowers, yet this one tops them all here, in my opinion.
What's blooming in your garden this early January of 2012?
Wishing you and yours a joyful, healthy, creative, and prosperous 2012.  I'm optimistic (like most gardeners–it runs in our DNA).  Are you?
Photos by the author.  If you copy, please link back.
Posted under Climate Change, The Winter Garden, Tropical Plants, Water in the Garden