She is stopping traffic right now, literally…people are jumping out of their cars with their IPhones and snapping pics.  I don't blame them.
Here she is, climbing an arbor in my yard, and the adjacent plants.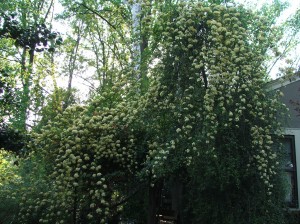 Ain't she pretty.
She is the Lady Banks Rose, Rosa banksiae.  Also known as the Lady Banksia Rose, depending on from where you hail in the South.
In my experience, it is the earliest blooming Rose in my area of the magical Mid-Atlantic.  I think it's the northern limit for her, as well, in terms of hardiness.
Look closely and you'll see a red/orange Honeysuckle vine mixed in with her butter-yellow flowers.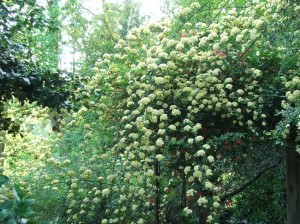 My dear neighbor, Mr. Jimmy, gets to see this view from his kitchen window: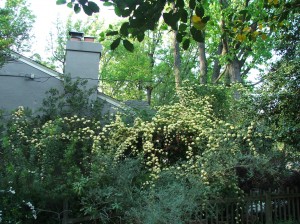 He's originally from the Deep South, and he says it brings back memories.  I like that.
Here's The Lady climbing my Weeping Yaupon Holly: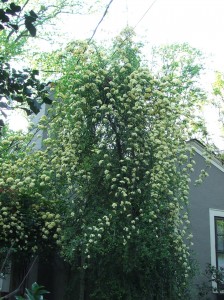 Oh, isn't this a Spring to end all Springs?  Ain't life grand…
Posted under Southern Gardens, Spring Flowers, The Spring Garden