What a glorious day to be alive here in the Magical Mid-Atlantic (I'm borrowing this phrase from my magical friend, H/D).  On my daily walk through the garden this morning, I stopped in front of the biggest Leatherleaf Mahonia, Mahonia bealei, and lo and behold, the half-open blossoms are covered with honeybees.  Very active and happy honeybees–in JANUARY.  This may not be the earliest they've emerged to feast on the Mahonia's nectar, yet it is the earliest certainly in my memory.  And the fragrance of the Mahonia is intoxicating when I get up close to the flowers.  What a treat and delight!
Look closely and you'll see the bees:
Photos by the author.  If you copy, please link back.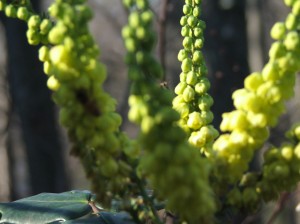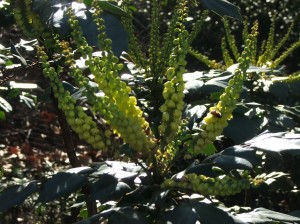 Posted under Fragrance in the garden, Insects in the Garden, The Winter Garden