There is a good possibility of some cold nights ahead here in the Washington, DC, area. This is not uncommon at this time of year when we are teetering between warmth one day and cold the next. The early warmth a few days ago brought out new growth on many plants. Most plants that bloom early can handle some cold, with the exception of the blooms on deciduous Magnolias. Check to see if your Japanese Maples have leafed out (most haven't yet) and check for emerging tender perennials.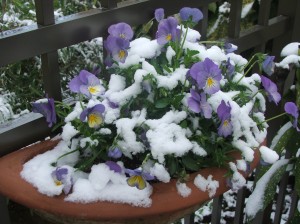 In my own garden, I will cover the blooming Daphne, a few emerging ferns, and maybe one Hydrangea that has leafed-out quite a bit. I am not going to worry about the Daffodils and early bulbs, Pansies, Hellebores, Mahonia, Pieris, early Camellias, for example—these should go relatively undamaged.
Anytime the night temperatures are expected to hover around freezing at this time of year, I consider covering. My goal is to keep frost off the flowers and new growth of tender items. I always keep a stack of old sheets, towels, and blankets for nights just like these when I need to cover plants. Just drape them gently over the plants you are trying to protect. Beware using plastic bags and tarps—they do a good job of protecting your plants, but the air underneath them can heat up too much the next morning when the sun hits the plastic. If you do decide to use plastic covers, be sure to remove them in the morning when the temperature warms a bit. Special frost coverings and blankets are available at some nurseries and hardware stores.
If you have planted tender annuals or vegetables prematurely, cover them. Bring indoors any tropical houseplants you may have set outside when it was warm. The average last date of frost in the D.C. area is April 25th—often earlier to the South and East, often later to the West and North. May 1 is a good marker to plant your tender annuals and vegetables and put out your tropical plants for the summer. It pays to wait until then. Still, keep those sheets, towels and blankets on hand for an unexpected cold snap.