News
Read Jeff's takes on the world of gardening, as well as other related topics.
You can also get some great tips as well, check it out...

Newsletter Archives
If you would like to read some of our newletters from the past,
you can click the links below to view the newsletter.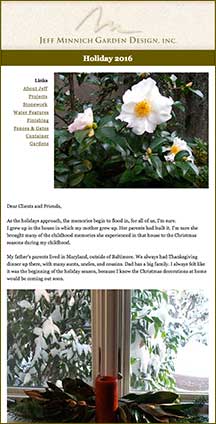 Dear Clients and Friends,

As the holidays approach, the memories begin to flood in, for all of us, I'm sure.
I grew up in the house in which my mother grew up. Her parents had built it. I'm sure she brought many of the childhood memories she experienced in that house to the Christmas seasons during my childhood.
My father's parents lived in Maryland, outside of Baltimore. We always had Thanksgiving dinner up there, with many aunts, uncles, and cousins. Dad has a big family. I always felt like it was the beginning of the holiday season, because I knew the Christmas decorations at home would be coming out soon.
My father's mother, who we called Nanny, was a marvelous cook—a "meat and potatoes" cook. When you grow up with a Northern father and a Southern mother, you are in the delightful position of getting both sides of the coin, food-wise. At my father's parents' house, I remember roasts, turkey, mashed potatoes, hot lettuce ("sweet and sour"), meat pies and, always, a loaf of white bread on the table. Stick-to-your-ribs food, and it was always delicious. Nanny always wore an apron and a smile, and Pop-Pop would put us on his lap and wiggle his moustache on our cheeks and neck.

Read the Whole Newsletter